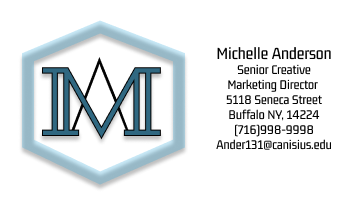 1. What did you learn?
From this assignment I learned how to make a business card and how to manipulate letters with their vector lines. Figma was also new to me and learning how to play around with it was very fun.
2. What was easy?
I thought it was easy to physically make the business card and add the monogram and my information. I also thought that it was easy to transfer the monogram to the business card.
3. What was challenging?
Something I found challenging was making the monogram. Changing the vector points on the letters was challenging because every little move you made impacted the letter. I also thought it was challenging to center my monogram on the business card.
4. How could your submission be improved?
I think my business card could be improved by figuring out how to center my monogram better. According to Figma my shape around the monogram is center but I still think the symmetry looks off.
5. How could the professor improve the assignment for the next class?
I think everything was explained very well and I feel like we had enough time. Maybe more critique from the class.
6. How might you apply your knowledge in future assignments or work scenarios?
I will be making a business card in the future so this helps a lot. Also, now knowing how to use Figma and adding that as another website I can use for design is very helpful for the future.
7. How did a specific reading or video inspire or help you?
There is a monogram at the gym I go to and the letter are stacked on top of each other and that's where I got my inspiration.